We are on week two of lockdown, yes who would believe it's only been 9 days since Boris Johnson announced for us all to stay at home with only keyworkers allowed to continue working. 
Due to the nature of our service, we can confirm DALPEST as a business is an essential service to the commercial and residential people of the UK and are open to serve our customer's pest management requirements.
As an essential service to the community, we feel at this time it's important for the public to know your local pest controller is here for you. As well as serving the people at home, DALPEST Pest Solutions also professionally protects the following premises against pests:
Health and social care
Education and childcare
Key public services
Local and national Government
Food and necessary goods
Public safety
Transport
Utilities, communication, and financial services.
HEALTH RISKS WITH UNTREATED PEST PROBLEMS
With pests, comes diseases and contamination. If pests are left without the relevant protection in place, we will see infestations increase and our food chain affected. Pest control underpins the safety of our communities and facilities, which are critical to the way we live.
Keeping your food safe and plentiful for the public is paramount, during this pandemic and always. But it's now as important as ever that food manufacturers and distributors minimise waste and prevent pest problems by putting pest control measures in place.
Pest controllers also protect other essential workers such as hospitals, supermarkets, care homes, and key public services that need support, as well as local and national Government, transport, utilities, communication, and financial services.
Pest infestations put these organisations, their employees and users, at risk and have the potential to close the services completely.
Furthermore, with much of the nation on lockdown within their homes, the impact of domestic pest infestation within your property is higher and will create a great deal of anxiety and potential health problems if it's left untreated.
Pest controllers need to continue to protect people's homes and businesses from pest infestations, as dealing with any added pressures additional health consequences is not welcomed.
BE ASSURED DALPEST'S HAS RISK ASSESSMENT MEASURES
DALPEST has issued a risk assessment to all staff members that are customer-facing. We are doing all we can to ensure all our staff are protected as much as possible at this time. But with the nature of our services, our technicians will need to continue protecting the public from environmental health issues resulting from pests. Although we encourage our technicians to continue servicing our customers that are in need, we do also instruct this is only if it's safe to do so. All technicians have been issued with a risk assessment guide to help determine if they should attend the job.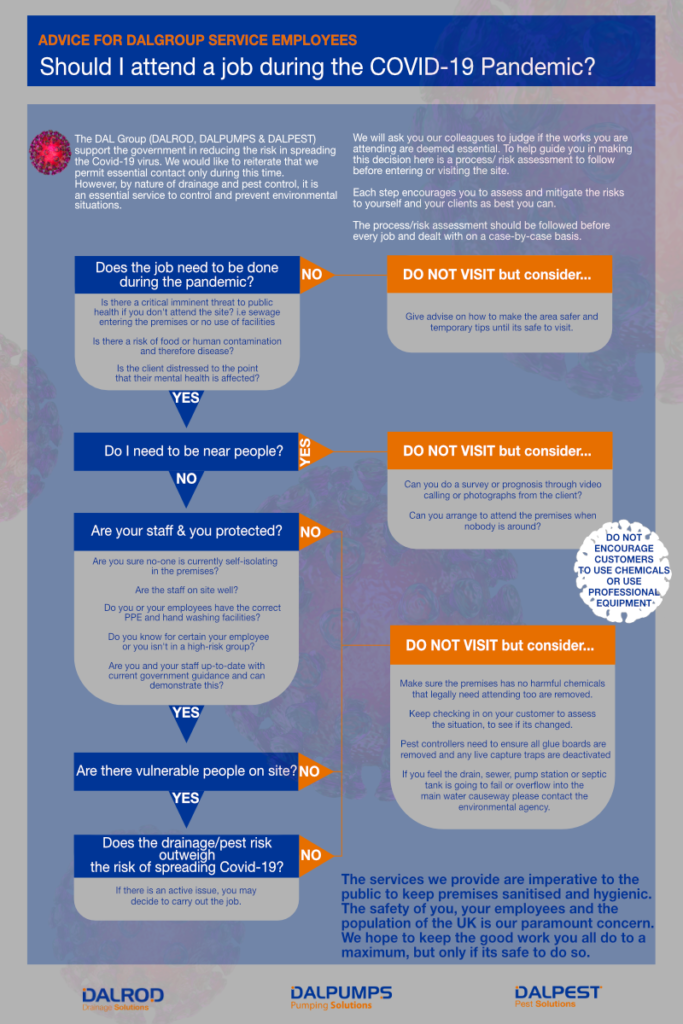 HEALTH & SAFTEY
DALPEST have always taken health and safety extremely seriously and feel this one of our USP's that set us apart from the rest. So adhering to, and wearing the correct PPE is something we insist on, daily. But with the threat of Covid-19, we have increased measures to ensure the safety of not only our employees but also our customers is the main focus. 
We also ask all our customers who already have poisons or traps in place but don't feel it's safe for us to visit to inform us immediately.
BUSINESS CONTINUITY
With thousands upon thousands of housing stocks to serve, DALPEST can ensure to all their customers that we are more than prepared with a contingency plan to deliver on KPI's. Our local technicians are out continuing the emergency and essential pest control of your homes and businesses. We ask you to continue supporting our local business, in using our services when required.
A WORD FROM THE MD
"In these testing times, it amazes me at the camaraderie of everyone. Businesses, the general public, and my loyal workforce are all pulling together to ride the storm and come out on the other side. As DALPEST service many of the hospitals and supermarkets throughout the UK, I would like to extend a special thank you to these keyworkers that are dealing with this crisis.
DALPEST are here and proud to service your pest control needs day or night, but please, everyone, stay safe!"
Dave Lane