Wasp Pest Control Service
Everyone is afraid of being stung by a wasp – and for good reason. Wasp stings are at best painful and at worst fatal, as they can cause certain individuals to go into anaphylaxis – a severe, life-threatening allergic reaction. As a result, wasps are not only one of the most annoying, but also most fearsome pests in the UK.
Contrary to popular belief, wasps do not go around stinging people for fun – they will only attack if they feel under threat. In doing so however, wasps send out a special pheromone which alerts other colony members of the danger, putting large numbers of wasps into attack mode. That's why it's incredibly important high wasp activity should be dealt with quickly by trained professionals.
To help give you a better understanding about these painful nuisances, DALPEST experts have collated everything you need to know about pest wasps – including the signs of a wasp infestation, tips to avoid them setting up nests in your property, and what to do if you suspect you have a problem.
The wasp season is longer than many realise, typically ranging from late March to early November. But as you might expect, wasps are most active between the summer months of June and September.
Queen wasps hibernate during the winter period, usually in areas such as loft spaces, cracks in walls, tree trunks, or other similar crevices.
Unusually high activity of wasps in a given area is a dead giveaway of a wasp nest being nearby. These durable nests can house up to 5,000 wasps during the peak summer months and are often located in sheltered, secluded areas such as trees, bushes, sheds, garages, wall cavities, and eaves and loft spaces. However, wasps have the ability to set up a nest just about anywhere they feel safe to do so.
With that in mind, these are the three main signs that you are suffering from a wasp infestation at your property:
Nest building: Early signs of a growing wasp problem include the discovery of a hibernating queen wasp, or the initial stages of nest building. At this point, nests are about the size of a golf ball.
Increasing wasp activity: Later in the season, wasp activity will gradually get busier as the nest continues to grow. Nests are constructed by worker wasps gathering small strips of dead wood which have been chewed up from fences and trees to create a papier-mâché-like material. Nests can be up to the size of a beach ball.
Wasps hovering around problem areas: You may also notice large numbers of wasps flying erratically nearby to the nest – perhaps around fascia boards, holes in the ground, in the shed, around air bricks, etc.
How DALPEST deal with wasps


Insecticidal dust treatments

Advice on preventing them returning
It's important any wasp nests are dealt with quickly and safely to minimise the risk of potentially dangerous stings. Once we have inspected the extent of the wasp infestation in your property, there are three steps we take to eradicate them:
What to do if you suspect you have a wasp problem
It is important any wasp infestation is dealt with correctly as soon as a problem is discovered. Due to their potentially dangerous nature, we strongly recommend taking the following steps:
1. Inspect nest areas
If it is safe to do so, find and inspect the wasp nest area. Do this from a distance in order to avoid aggravating the wasps and save yourself from unpleasant (and potentially lethal) stings.
2. Call DALPEST

Rapid response available 24/7 - we get to you quickly

British Pest Control Association (BPCA) members

Highly-skilled, experienced pest control technicians

100% child, pet and environment friendly

Education, not just eradication

Five-star customer service for all pest problems

Rapid response available 24/7 - we get to you quickly

British Pest Control Association (BPCA) members

100% child, pet and environment friendly

Highly-skilled, experienced pest control techs

Education, not just eradication

5-star customer service for all pest problems
Tips to avoid encouraging wasps in your property
Unfortunately, it is difficult to discourage wasps unless the queen wasp or new nest is caught early and destroyed. Most people will not realise they have a problem brewing until later in the wasp season, when the nest is already much larger.
We recommend ensuring that entry points to potential nesting areas are sealed as best as possible to minimise the risk of wasps gaining access.
What are the dangers of wasps in your home and business?
As previously mentioned, getting stung by a wasp is at the very least a painful experience – particularly if you are attacked by a large number of them as they try to defend themselves and their nest.
For some people however, wasp stings are potentially fatal as it can cause anaphylaxis. This occurs when your body goes into shock in response to wasp venom. Most people who go into shock after a wasp sting do so very quickly, so it is vitally important to seek immediate emergency care to treat anaphylaxis.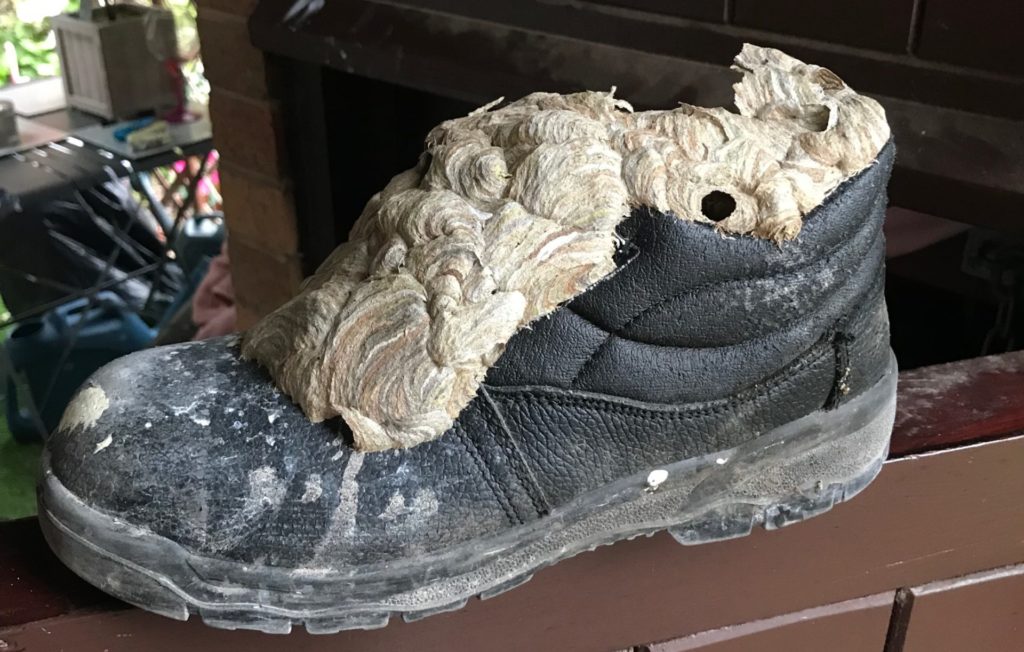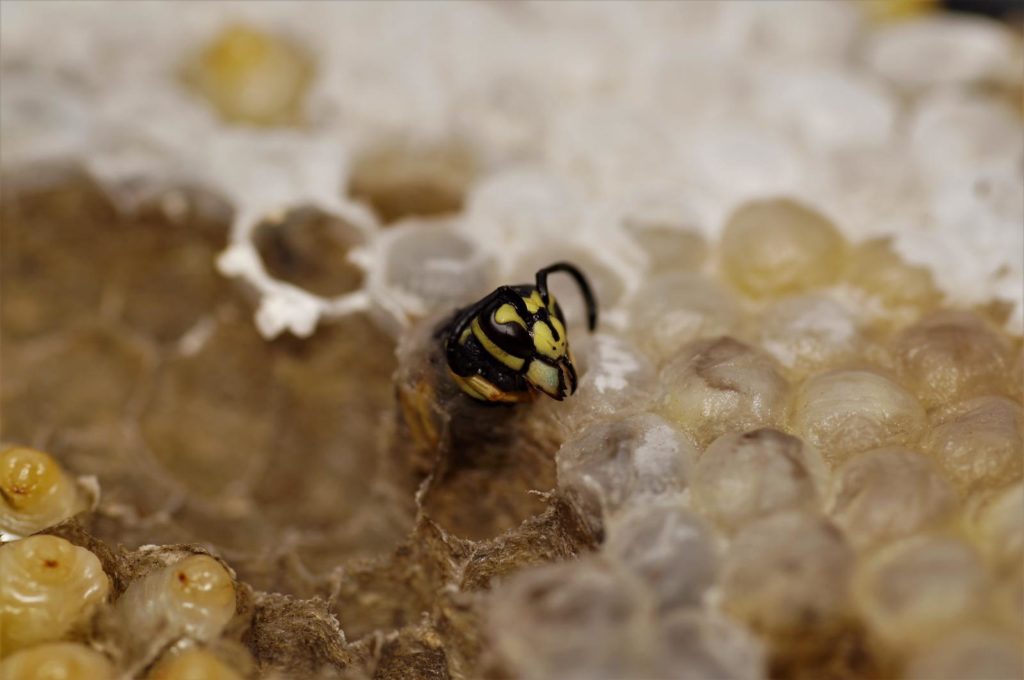 For more information on treating wasp stings and insect bites, visit the NHS website.
It is never worth the risk of having a friend, family member, colleague, or customer being stung by a wasp if it is avoidable. Thus it is imperative any wasp nests are dealt with as soon as possible to minimise the risk of harm to everyone nearby.
The two main species of wasp in the UK are the common wasp (Vespula vulgaris) and the German wasp (Vespula germanica).
Common wasps can grow up to 17mm long, with queens being slightly larger.
Their black and yellow colouring is fused together, and they have a black anchor-shaped mark on their face.
German wasps are typically around 13mm long, with queens again being slightly bigger.
They are also black and yellow, but these colours are not fused. They have three black dots on their face.
Worker wasps have a typical lifespan of a few weeks, but they all die off at the end of the season. The new queens will hibernate over winter, ready to start building a nest in the spring.
Wasps will not return or reuse old nests, so these become completely redundant at the end of the season.